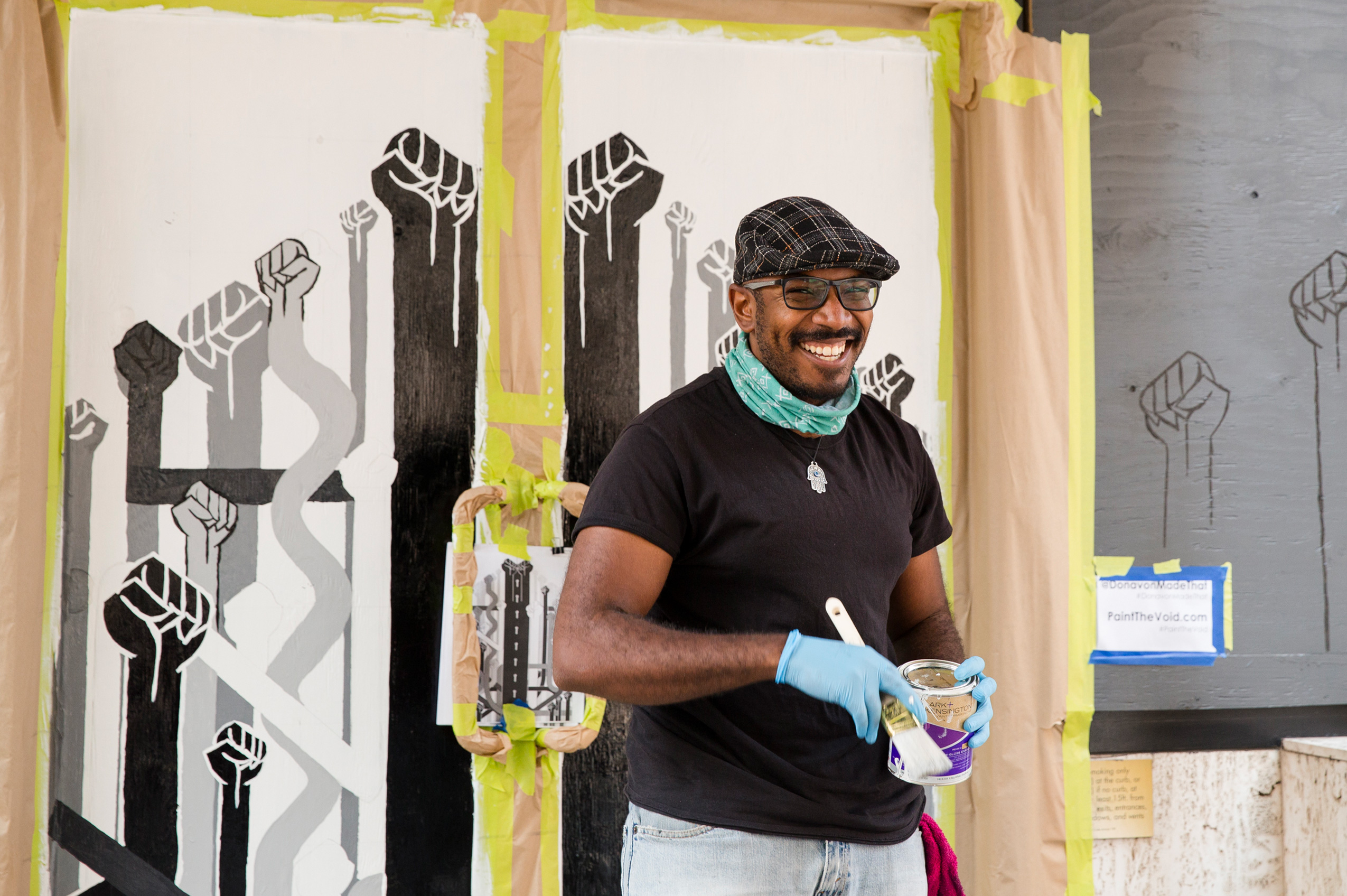 THE CITY CANVAS: A PAINT THE VOID RETROSPECTIVE
Celebrate the art and artists that transformed the city into a canvas – giving us light in the dark. When San Francisco shut down for COVID shelter-in-place in early 2020, artists created beautiful works throughout the city on boarded up storefronts. The City Canvas: A Paint the Void Retrospective, will showcase these artists and a selection of their murals – together for the first time in historic Building 12 at Pier 70. 
Join us to experience this moving collection, enjoy food and drinks while listening to a playlist curated by Fault Radio. Let's gather and celebrate the ways artists and makers invariably find creative solutions during the most challenging times. This exhibit, The City Canvas: A Paint the Void Retrospective, will be taking place the last two weekends in January. 
***
LAST 2 WEEKENDS IN JANUARY
January 22 & 23
Saturday & Sunday: Noon – 6 pm
January 27 – 30
Thursday & Friday: 4 – 9 pm
Saturday & Sunday: Noon – 6 pm
Photography by Lisa Vortman.
Paint The Void
***
Paint the Void supports artists for the public good. We highlight art as essential, particularly during a time of crisis. Paint the Void uplifts artists and their voices by funding public art and creativity in everyday urban spaces – spaces that impact and enhance people's daily lives. As COVID shelter-in-place restrictions shuttered San Francisco and our beloved local businesses, artists acted. By painting on boarded up storefronts, these artists brought messages of hope and humanity back to our neighborhoods. The Paint the Void Retrospective celebrates how art brings people together and how in a time of national reckoning on race and equity, art challenged us to question, listen and rise. This exhibition is an enormous effort of collaboration – from artists to city officials, to local merchants. It is a collective of creativity and shared experience on display from over 150 boards across the city. The exhibition is produced by Paint the Void's founding agency, Building 180, and curated by Heather Jain.
Fault Radio
***
Fault Radio is a grassroots non-profit organization dedicated to creating a center for modern electronic music and DJ culture in the Bay Area. Originally conceived as a pop-up live video streaming platform, Fault Radio has grown and evolved with the needs of the community – to include the production of podcasts, articles, documentaries, music television, record fairs and educational programs that support the growth of artists and local institutions. The listenership and viewer base includes an international audience with a reach that extends to cities such as Los Angeles, Portland, New York City and London. However, their focus remains on the Bay Area – rooted in the belief that the future is local. Fault Radio's unique archive of DJ sets, live performances, photos and interviews represent the brilliance of the Bay Area's underground and serves to elevate the culture and preserve it for future generations.
As an exciting addition, the art pop-up Love Letters to SF (presented by Shine On SF) will be on display January 22-23, and again January 27-30. The work of many local artists and community organizations, this traveling installation shares over 3,000 responses to the question "What makes San Francisco Shine?" on giant shimmering block letters. A recurring theme seen throughout the installation is people's appreciation for the creativity of our City – the people, the artists, the murals. This inspired Shine On SF to partner with Paint the Void and TogetherSF to bring more murals to San Francisco neighborhoods in 2022.
***
If you want to bring a mural to your community, click here to apply. 
To learn more about the Love Letters to SF and the upcoming project schedule, visit shineonsf.org.